WELCOME TO TFC21, THE 21st ETRIA WORLD CONFERENCE "TRIZ FUTURE 2021"
22-24 September 2021
Free University of Bozen-Bolzano (Bolzano, Italy)
and online
TFC21, the ETRIA World Conference "TRIZ Future" 2021 "Creative solutions for a sustainable development" will take place at the Free University of Bozen-Bolzano (Bolzano, Italy) and online on 22-24 September 2021. Bolzano is the main town of the alpine region of South Tyrol, and is considered the door to Dolomites, included in the UNESCO list of the world's protected natural paradises since 2009.
The 21st edition of ETRIA World Conference "TRIZ Future" invites original papers and best practices that combine systematic invention generation, creative design, and digital technologies to solve complex problems in any field of human activity with a particular focus on advanced systems for tackling environmental issues and other global challenges. The conference welcomes scientific and practitioners' contributions, as well as posters, about the main issues summarized in the call for papers, which however should not be considered exhaustive. The closest deadline is the submission of full papers and posters' proposals, scheduled on April 30th, 2021.
The Conference is organized by the European TRIZ Association (ETRIA) together with the Free University of Bozen-Bolzano (unibz). The conference's main partner is the International Federation for Information Processing (IFIP). More on TFC21 is to be found here.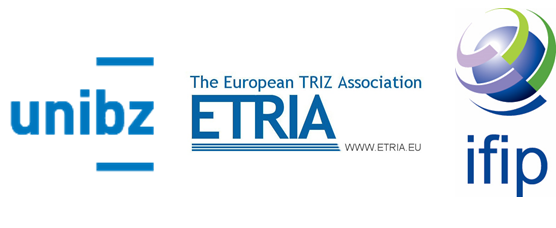 We greatly appreciate the contribution of our sponsors.
Main sponsors

Sponsors